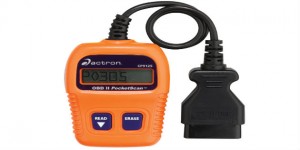 The Actron CP9125 pocketscan code reader is especially designed for a novice to use to trouble shoot vehicle problems. You can repair the problem yourself to save money without having to go to the auto shop, or you can know what to expect if you decide to take it in for repair.
As we all know auto repair shops cost a lot of money for just one visit and sometimes they might try to make you do more repairs on your vehicle when it is not needed.
If you think you are in the beginner level then you should start with this scanner. Sometimes a more advanced scanner might not be the best choice if it is hard to use. It will just make things more complicated without getting any tasks done.

Benefits of owning this tool
It works with all 1996 and newer import and domestic vehicles of OBD II and CAN and also for '94 and '95 OBD II compliant vehicles. OBD II stands for On-board diagnostics version II, and CAN stands for Controller Area Network. It doesn't work with OBD I vehicles.
It can read DTCs (Diagnostic Trouble Codes).
Once you did the repair to the vehicle, it will allow you to erase the DTCs and turn off its check engine light.
It will display the emissions status.
The tool will also show the MIL status. MIL stands for Malfunction Indicator Lamp.
The OBD II cable is attached to the scanner so you wouldn't lose it when you need it.

It will show the number of indicating codes pulled.
Is this tool updateable?
The answer to that is no. If you need a scanner that is updateable you might want to try the model of CP9580A. It has no software to download, so it is not possible to do updates for the scanner. It might come with a CD according to the manual but someone said he didn't get the CD. The CD is NOT required to use the tool. The CD contain the following information:
The user manual which is included when you purchase this reader.

DTC Lookup Software

Adobe Acrobat Reader
How much does it weigh?
This car code reader is very light weight. It weighs .84 pounds. I went ahead and converted it into 13.44 ounces. Maybe that way you will have a better picture of how much it weighs. As you can see it doesn't take that much room or space for storage. It also makes it very convenient to take it with you.
What are the dimensions?
The dimensions for this product are 10″H 6″W 1.60″D.
What is in the box?
It comes with the Actron CP9125 tool and instruction manual.
Actron CP9125 For Sale
This little vehicle code reader is qualified for free shipping and as of today April 15, 2015, you can save up to 71% off from the listed price. Please note, the amount of savings changes everyday. The next time when you check it, the price might be higher or lower. Hopefully, it's even more lower for you when you check it.
Actron CP9125 Review
The average rating for this scan tool is very high by the users. If you don't believe me, you can click here to see for yourself. This reader is the most popular when comparing with other Actron scanners and also it is the cheapest and lightest in weight.
Pros And Cons

Pros:
It is very easy to use. Seriously, there are only two buttons to press. It is either to press the Read or Erase buttons. Is there anything easier than that?
It is small enough to put in your pocket and with this little tool, it pays for itself without the auto shop's service to erase the codes for you.

Cons:
A little bit of users are saying it doesn't work for their car when they were trying to use it and it doesn't last that long. This might be due to detects from the manufacturer.
The attached cable is too short which makes it inconvenient to use. If that is the case, then you might consider buying an extension cable. You might want to check out this extension cable if you decided to go with this tool. This is an OBD II extension cable and it is five feet long. The price for this cable is reasonable and the rating is also pretty good.
Warranty and Manual
This engine code reader comes with a one year limited warranty just like other products. You may find the user manual by clicking here. The manual is 46 pages long, but it has about 15 pages showing you how to use this gadget and the rest of the pages are just J2012 Diagnostic Trouble Codes. It is in pdf format, so you will need Adobe reader to be able to read it.