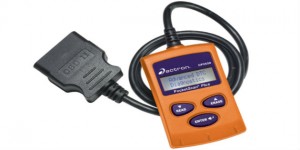 The Actron CP9550 PocketScan plus costs just a little more than the Actron CP9125 and that is because it has more included built in features. I guess it is a little more advanced.
What do you know? Actually this scan tool weighs even less than the CP9125. It is just a tiny little less. It weighs .75 pounds and that is about 12 ounces. You can just imagine a can of soda that we usually drink.
That is about 1.44 ounces in difference. Don't know if that makes a difference to you but as for me, I like the less weight the better on any kind of object. I don't like having to hold or lift heavy things.

What can this tool do?
This little tool is compatible with all 1996 and newer import and domestic OBD II (On-board diagnostics version II) and CAN (Controller Area Network) vehicles. And also the 1994 and 1995 OBD II vehicles compliant.
This gadget will automatically read the diagnostic trouble codes when it is connected to the vehicles to save time.
It will read and display Diagnostic Trouble Codes (DTCs) on the screen for you.
It will also display OBD II generic Diagnostic Trouble Code definitions.
Of course it can erase the Diagnostic Trouble Codes when you need it to.
It has over 4,000 generic DTC definitions.
Did I mention, this little tool can provide you with freeze frame data? Yes, it reads and shows the freeze frame information. If you don't know what freeze frame data is, it is just a snapshot showing you the vehicle's sensor information at the time of your vehicle's error showing up.
With this scan tool, it can reset the MIL (Malfunction Indicator Lamp) and it will turn off the Check Engine light.
This tool has a backlit display for easy reading on the eyes.
The cable is attached to the tool.
It reads and shows, VIN (Vehicle Identification Number), pending DTCs, MIL status and all available I/M monitors (emissions).
You can use this scanner to view the vehicle emissions data.
It is small in size which makes it very easy to store when the tool is not in use.
Can you use it to read airbag codes?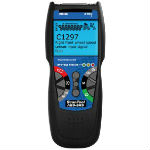 No, this scan tool isn't designed to do that. It can only read the stored DTCs from this tool. If you want a scan to be able to scan airbag lights then you need to search readers that have ABS and SRS Coverage.
If you don't know where to start, then you can start with the INNOVA 3160. The rating is good and it is a more advanced tool. Do keep in mind any kind of scan tool that can do ABS and SRS will be a lot more higher in price. To read more about this 3160 tool, click the picture on the right side.
Please do check to see if your vehicle is compatible with this tool or not before making that purchase. At least it will save you the trouble of returning it later. You can find the ABS compatible chart by clicking here and the SRS over here.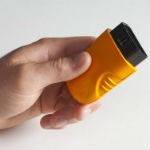 I have taken a look at all the Actron scan tools to see if it can do the above things. I only found the Actron CP9599 can do ABS and SRS, but the rating for this product is just average and you have to spend more money on add ons after you bought the U-Scan. I don't like the idea of having to pay extra for all these add ons to get more features.
Actually this model can do a lot of things, like you can connect wireless to your iphone, ipod and Android with the free downloaded application and then connect the CP9599 which is called the U-Scan to the vehicle port. I think it is kind of cool to be able to use your smart phone to do the diagnosis. If you like you can click the second picture from the right side to read what this model can do.
Does it display codes and tell you what it means?
It does display codes for you to see and tell you what the code refers to, but it doesn't tell you how to fix or troubleshoot the problem. You may want to try to do a google search on the code the tool gave you. You may want to consider this ODB II book along with this tool, if it is too much trouble to google the codes.
Is it possible to update this tool?
I am afraid this gadget does not have the possibility to do updates. If you need a Actron scan tool that is able to do updates, I suggest to go with the models either the Cp9575, CP9580A or CP9190. The CP9185 is also able to do updates to the tool, but the rating is not that good based on my findings.
What is in the box?
The user manual that tells you how to use it and the PocketScan Plus CP9550 Tool.
Actron CP9550 Review
This tool has been out in the market for quite some time now, so there are a lot of reviews online. This is the second most popular scan tool made by Actron.
This Actron code reader has a very high average rating and that means a lot of happy customers. It still maintains its high mark rating. It takes a very good product to maintain a good rating.
Pros and Cons

Pros:
It's just as simple to use as the model CP9125. This one has three buttons to press instead of just two. The code appears very quickly on the screen, saves a lot of money and is very reliable.

Cons:
A few are complaining this tool is hard to disconnect the cable from the OBD II vehicle port.
The tool from this cable is also too short to work with. You might want to check out this OBD II extension cable. It is 5 feet long. Click here for the extension cable.
Warranty and Manual
This tool is backed up by a one year limited warranty from defects. That means at the 12 months time frame the manufacturer will cover the materials and workmanship, but you might have to pay for the shipping cost. You do have to retain your receipt to be able to use the warranty and it is because they will ask you to provide proof of purchase.
The one year limited warranty is only for the unit's intended use. That means you can't abuse or alter the unit. If your warranty is expired and it needs repaired then you can call this number 1(800) 228-7667. Oh yeah, you can find the user's manual by clicking here.
Buy This Reader In Best Price
You can buy this reader from Amazon. Most of the time Amazon has this reader on sale. This tool is currently qualified for free shipping charge. Do you like paying shipping costs? I certainly don't. Instead I buy more items to get free shipping, because I need to spend a certain amount of money to be able to qualify for free shipping.
I also like the idea of shipping it to my home and not buying it at my local store. It is a hassle to pick up a huge item because it doesn't fit in our car trunk. Click the below link to check out its current price.