Versus Comparison between Clore JNC660, JNC300XL, JNC4000 , JNCAIR and JNC950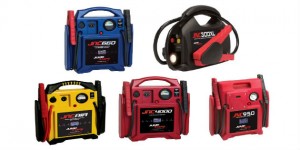 These are the top five most popular and best rated jump starters made by the company of Clore Automotive. It belongs to the product line called Jump-N-Carry. There are still three more jump starters in the Jump-N-Carry product line that I didn't put on here.
That is because I picked the best ones and to tell you the truth I don't have more space to list them on here. I hope this comparison chart would give you a helping hand to choose the best one for you. I know it is a little hard to get the right one.
Oh yeah, I have also included the model number of battery in case you ever need to replace the battery. They all do have different numbers other than the JNC660 and JNCAIR. The battery that they are using is called the Clore PROFORMER battery and all of them are a 12 Volt jump starter. I hope you don't ever have to replace the battery and have many years of use from your jumpstarter.
Clore JNC660 vs JNC300XL, JNC4000, JNCAIR, and JNC950 Comparison Chart
| | | | | |
| --- | --- | --- | --- | --- |
| | | | | |
| | | | | |
| | | | | |
| | | | | |
| | | | | |
| | | | | |
| | | | | |
| | | | | |
| | | | | |
| | | | | |
| | | | | |
| | | | | |
| | | | | |
| | | | | |
| | | | | |
What Is The Best Portable Jump Starter To Buy For Yourself Made By Clore?
The most popular and best selling one is the JNC660. The second best is the JNC300XL. It is the cheapest and lightest comparing with other models, but the JNC300XL has the least cranking amps. If you are going with this one, first you need to find out the minimum CCA of your car. It might not be powerful enough because it has 225 cranking amps.
The JNCAIR is very similar to the JNC660. The only difference between them is the dimension, weight, cables and the JNCAIR has an air compressor. As you can see from the above chart, the JNCAIR weighs 28.5 pounds and the cable is 68 inches long. The difference on the pounds and cable are 10.5 and 22. If you need a longer cable then the JNCAIR might be the better option for you, but you have to deal with the extra 10.5 pounds of weight. The price might also be a little higher.
If you need higher cranking amps then you should go with the JNC950 model. It has 925 cranking amps, but a jump starter with at least a 500 CCA rating, it can jump start almost any dead vehicle battery.
What To Look For When Buying A Jump Starter?
Benefit Of Owning A Higher Cranking Amps Power Source
Cranking Amps
If you have no clue what to look for when buying a jumpstarter, then I suggest you start out by looking at the peak and cranking amps. The higher the cranking amps from the starter the better because you will be able to use it to jump start more different cars or trucks.
As you know many people own more than 1 car or truck and that means your vehicle might also have different CCA. If you have a higher cranking amps rating jumpstarter then you don't have to buy more than one battery pack, and with that it will save you some storage space and also it will increase the chance of reviving a dead battery.
If you are thinking it will overload your car just because it has higher cranking power, it is not true. It will only transfer the amount of power to your dead battery it needs. But still you might need to find out the CCA (Cold Cranking Amps) from your car it needs to be able to jump start it. The price might cost more due to having higher cranking power.
Prices
You can also go with the price if you are on a tight budget. We all know that having a power source is a necessary item. Having one is to at least ease our mind when driving on road trips. A price range for a decent portable jump stater is around $60.00 to $400.00.
Brands
Do you have a brand preference? I know a lot of people might prefer a well known brand when they are buying gadgets. As for me I don't really care as long as it gets the job done. There are a number of brands making portable jump starters, such as Clore, Schumacher, Stanley, PowerAll and others.
Features
You might want to go with built in features. Some power sources have a light built in like the JNC300XL for easy vision at the night time, or maybe you would like to have a built in air compressor, like the JNCAIR to fill some air in your tires. It is very hard to find a place to air into the tires when you are on a road trip. We have experienced that a couple of times. We were wasting time searching for it instead of getting back on our road trip.