Innova 3150 Diagnostic Code Reader Reviews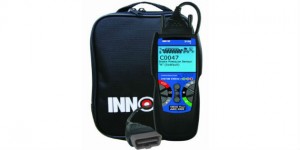 The Innova 3150 diagnostic code reader is a more advanced tool to be used to diagnose vehicle problems. It might not be the best choice for a beginner's level.
This tool can do more than other basic scan tools. This tool can check ABS and SRS OBD II vehicle problems. Okay, what exactly does ABS and SRS stand for? ABS stands for Anti-lock braking system and SRS stands for Supplemental Restraint System pretty much related to airbags. You can click the above hyperlinks to read more about it.
Just to let you know, not that many car code readers can check ABS and SRS problems. Most of the code readers are designed to only do the basics, like checking engine lights and some might erase the code for you when you have fixed it. This scan tool has the option for you to do upgrades if you need more coverage. For example, you are able to upgrade to retrieve codes from OBD1 vehicles.

What are the benefits and features of this scanner?
This tool is designed to work with any car, minivan, SUV and even light truck made from the year 1996 or OBD2 (On Board Diagnostic 2) vehicles to check engine light.

It reads and erases check engine light for OBD2 trouble codes. It might be a good idea to fix the problem first before erasing the trouble code and especially if you are thinking of taking it to a repair shop. This information might help the technician to troubleshoot the problem.


You can see up to 20 pieces of important information on the screen at one time.

The LCD screen can select from three different languages and so can the definition for the DTCs. The languages are English, Spanish and French.

Once the tool is being connected to the vehicle, it will automatic refresh data every 30 seconds without you having to do it manually every time. That would save you some time.

It has 3 colors of LED indicating lights to tell you the status of your vehicle. They are red, yellow and green.

Has the ability to read and erase SRS for airbag and ABS for anti-lock brake codes for popular and newer models like Ford, Toyota, GM, Chrysler and Honda vehicles.

You can see freeze frame data. Just to let you know a freeze frame data is a snapshot of the condition with the malfunction for the engine and emission system present with fault code that was saved or stored in the vehicle's computer memory.

Can use it to see your vehicle information like the vehicle ID, Available Modules and IPT (In-Use Performance Tracking).

You can re adjust the following items, if you want it to be changed:
Adjust Brightness
Audible Tone
Display Backlight
Choose Languages
Unit of Measurement

* Changes can only be made when the Innova scan tool is not connected to the vehicle.
Vehicle data can be viewed in memory. That means you don't have to connect to the vehicle while viewing the data in a cozy chair or sofa and you can take it to ask someone who has more knowledge than you for help.


The data will be stored to the scanner whenever you retrieve the DTCs from a vehicle, and each time your retrieve the DTCs the tool will overwrite the existing info with new data.

It has a BACKLIT LED screen for easy reading on the eyes when using this tool at night time or in a dark place.
What kind of vehicles are compatible with this tool for SRS and ABS?
The brands that are compatible with this tool are the newer models of Ford, GM, Toyota, Chrysler and Honda vehicles for the SRS and ABS features. If these two features are really important to you then I suggest you to check out these two charts to make sure your vehicle is able to read the SRS and ABS codes.
It really is a turn off after you bought this tool and find out later your car is not able to read it. Returning this item is easy, but it would still take some of your time and if you pass the returning period then you might not able to do so. Click here to see the ABS coverage chart and as for the SRS coverage chart try here.
Is this tool able to read OBD1 vehicles?
I don't think this tool can read On Board Diagnostic 1 generation. On the sale page it said it is optional to be able to upgrade, but when I searched the official site of Innova, I couldn't find the information.
So I am concluding it is not able to read it. I know it can only read OBD2 vehicles. If you really need a tool that can read OBD1 and OBD2 and also have the SRS and ABS feature, I would suggest you to get the Innova 31703 tool.
The Innova 31703 Scan Tool is more of a pro series. It has all the 3150D features and can do much more. This tool can read most popular brands of OBD1 vehicles from the years of 1981 to 1995 and you can also have the option to upgrade this tool to have more vehicle coverage, like the ABS & SRS to Asian or the ABS & SRS to European vehicles. They both have an upgradable fee.
While writing this post of August 6, 2015, the Innova 31703 tool has a promotion that you can upgrade the ABS & SRS to Asian vehicles for FREE, if you buy it. I think you should take advantage of this promotion as soon as possible before it is gone. I don't know when this promotion will be gone because the site didn't specify an expire date. It might not be available when you check it.
To be honest the price for this scan tool is a bit higher. But that is because it has a lot of built in features. The average rating for this tool is also very high. It seems many users are very happy with this tool. If you decided to choose this tool just make sure the SRS and ABS are compatible with your vehicles. You can click here for the ABS chart and here for the SRS chart for this tool. You can click here to read more about this tool or the above picture on the right side.
If you don't need the OBD1 and the upgrade extended vehicle coverage option or more built in features, then the 3150 will do just fine and you can also save a little more money.
Does it need a replacement battery?
Yes, it does. It needs three double AA batteries. It is recommended to use Alkaline type of battery for replacement for longer use. The tool will show a battery icon on the screen when it is time to replace it. All three system status LED lights will light up and there won't be any data showing on the screen to let you know.
Innova 3150 vs 3160
Okay, you want to know what are the differences between the Innova 3150 and 3160. For one, the Innova 3160 is more popular than the 3150 among the consumers but its average rating is a tiny little bit lower.
That is because more people rated the 3160 and it is still having a very good rating. What makes me consider it to have a very good rating? Any product that has an average rating of a 4, I consider to be a very good rating with 5 being the highest. The MSRP for 3160 is higher for about $112.71 according to innova.com.
Innova 3160 has the features of being able to view live data, to see it in graph, record and playback while the 3150D has only freeze frame data. If streaming live data is important to you then the 3160 might be the better choice for you. The dimensions for both tools are different but the weight stays the same and the rest of the features on both models have it.
If you like to read more about the Innova 3160, you may click here.
| | |
| --- | --- |
| | |
| | |
| | |
| | |
| | |
| | OBD2 Live-Data Stream Display |
| | |
| | Bi-Directional Control / Service Mode 8 - EVAP |
| | Record, Graph and Playback Live Data on the Screen |
| | |
| Measurements: 10.9 x 7.7 x 3.1 inches | Measurements: 11 x 7.7 x 3 inches |
| | |
| | |
Can this innova scanner do updates & upgrades?
Yes, this tool is updatable or even upgradeable if there is any new version available.
What is the difference between the Innova 3150 and 3150D and which one will I be getting?
Some of you might notice the D part at the end of that model number and are wondering what are the differences. Well according to the users, it is the same tool. The price is better, location of the buttons might be different and the 3150D is a more updated version. The users are saying when they bought this tool they are receiving the newer version of 3150D from the place where I am sending you where you can buy it, even though the sale page is saying Innova 3150 ABS SRS.
How long is the cable?
The cable for this tool is 6 feet long and you really don't need to buy an additional extension cord to connect it to the car for troubleshooting. That is very nice. No need to spend more extra money. There are auto scan tools' cables that are shorter than that.
What is the dimension & weight for automotive scan tool?
This diagnostic tool weighs about 1.8 pounds and has the following dimensions 10.9 x 7.7 x 3.1 inches.
Does it give you the definition of the codes?
Yes it does. The tool will give you a basic description of what the code means. But you might have to google it online for more information. Most of the code readers are giving you the basic descriptions.
Are you able to display a different language?
Yes, as a matter of fact, you can select from three languages. The first one of course is English. Second is Spanish and the last is French. Too bad that there is no Chinese language. I have many friends who can only read and write Chinese. Did I tell you the definition for the codes are also written in the language you selected?
This tool will make it a very nice gift to someone who doesn't speak or read English and knows either of the other two languages. I know exactly what it feels like to ask others to translate for you. It is really a pain in the neck and it is also not very convenient, like when you need them and they are not around to help you for translation.
What is in the box?
Okay, you might be wondering what's included with this purchase.
The Innova 3150 diagnostic tool

A USB cable

A quick reference guide

An OBD2 16 pin DLC (Data Link Connector) cable

You will also have access to the RepairSolutions from Innova.com


It most likely includes a pouch or carrying case for the tool according to the users.
What is RepairSolutions, and how is that going to benefit me?
RepairSolutions is a very useful feature that you might want to have and of course this is optional for you. You might not need it, if you have already fixed your vehicle. It is just there to help you fix your car if you can't figure out what is wrong with your vehicle.
RepairSolutions is a web based service provided by Innova to help auto technicians to accurately and quickly diagnose and fix today's vehicles. It allows you to view and save the diagnostic data that you got from the vehicle's computer.
In addition, you can even email that retrieved information to someone else who has more knowledge than you to take a look at it. With the RepairSolutions service you will also have access to the following items:
Verified Fixes
Step-By-Step Repair Instructions
How-To-Repair Videos
Technical Service Bulletins
Safety Recalls
What is needed to be able to access the RepairSolutions feature?
All it requires is the diagnostic scan tool, the mini USB cable which it includes with the scan tool, create a free account from Innova.com (the register link should be on the top right side of the page or click here) and also you need to download the software provided by Innova to your computer for Windows. I don't think they have a software for MAC users yet according to the sale page and manual. Hopefully, they will have it soon.
You might also want to check the minimum requirements hardware for your Operating System to be able to use the software. To find that out please click here. If the software doesn't come with your purchase then you can download it by clicking here. I believe they have stopped including the software in the CD. That is due to continuing updates to ensure it is working properly, if you are wondering why you don't get a CD.
Just to let you know, that might not be the latest version, if they have any updates. I will try to make updates on the link if they have any newer version. If you want to find that out for yourself, you can go to this page and select the category of "OBD2 Diagnostic Tools" and select the model of "3150d INNOVA ABS/SRS + CanOBD2 Diagnostic Tool"and then use the mouse to click on search, that should bring up the latest software for this tool.
Innova 3150 Review
This tool scanner does have a very good rating among consumers and its rating is pretty consistent. A lot of users are saying this little gadget is saving them a lot of time and money by fixing it themselves and without having to go to the auto shop.
Pros and Cons

Pros:
A lot of users are saying, it is very easy to use or operate. This auto reader works great and the price is good. Many said it works as it is described. It is a must to have it in your tool box.

Cons:
Might not able to read all of the SRS and ABS vehicles. That is why you have to check with the compatible list I provided from this post from the above to make sure it is compatible with your vehicle.
And if it is on the list and when you bought it and tried it and it is still not compatible with your vehicle then I suggest you to return it to get a refund. Just be sure to test it out as soon as possible and you don't want to wait until the returning period is ended. Currently, there is no single auto code reader or diagnostic tool compatible for all vehicles out in the market and especially for the SRS and ABS features.
Be sure to check that they have sent you the correct model you have purchased. Not all Innova scanner tools have the SRS and ABS features. Mistakes do happen. There is a reviewer saying they have sent them the wrong model and only found out six months later.
Warranty and Manual
This gadget comes with a one year limited warranty free from defects from the date you purchased it. You can find the English manual by clicking here. French manual click here and as for Spanish please click here.