Clore Automotive JNC660 Jump Starter Battery Review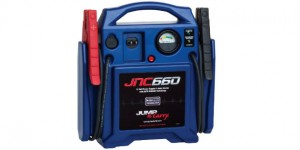 Is the Clore automotive JNC660 jump starter battery worth your purchase? Before you decide, be sure to read my personal and honest review of this product.
I am thinking about getting a new jump starter battery to take with me on road trips because I have had my Jeep for almost ten years already.
I am worrying one of these days it will fail me, so it is a good idea to buy one just to be on the safe side. I can't imagine and don't want to imagine what will happen if we were stuck in the middle of nowhere and no one would pass by to help us. Also it is a hassle to bother other people. We do keep a couple of jump start cables in the car, but we still would need another car to give us help.
Every year we drive to NY to visit my parents at least one time and it takes us about 26 hours to get there for only one way. As you can see we are taking a big risk on our trips. The thing is we don't like traveling by plane. We don't like checking in our luggage and going through all these security checks and not to mention luggage and ticket prices have been increasing.
Nowadays, some airlines don't even offer you a free drink like soda or juice for a three to four hour flight. If you want it, you would have to pay for it. Anyway, if you like you can check out the Clore JNC660 vs JNC300XL, JNC4000, JNCAIR, and JNC950 comparison chart by clicking the hyper link.

What are the featured benefits of this Jump Starter?
Top notch features
These are the features you are going to get if you own the Clore JNC660 starter. Clore Automotive is the leading brand of making powerful and durable jump starters that you can trust.
How much peak & cranking amps power does this jump battery have?
The Jump N Carry JNC660 delivers 1,700 peak amps and 425 cranking amps of power to recharge dead batteries. It is twice as powerful as the lower quality competitor's starters.
This Jump N Carry is also equipped with a top notch and high performance PROFORMER battery specially designed for vehicle jump starting applications.
Who can use the Clore Automotive JNC660 battery?
This jump starter can be used for personal use and is even powerful enough for professional use. I find many professionals are using the Clore JNC660 to start their clients' cars and trucks.
That means it can be used in a variety of environments. It has enough power to be used in an auto workshop or dealership. If you have that kind of business the JNC660 is perfect for it.
How many years of warranty and where is the manual?
The jump starter has a one year limited warranty and a one time repair Service Coupon after the warranty has expired. What the coupon does is either recondition or replace a damaged unit with a refurbished one for a fixed fee of $75.
It does require you to have sent in the sale receipt and your non working unit, so be sure to save your receipt in case your unit needs a repair.
Did I mention the coupon is still valid even if it is your fault like if you drop it or run over it with a truck? You can't beat this feature. To me it is another insurance I would like to have.
For some reason if you have lost your manual or want to read the manual first before making that purchase, then you can find the manual by clicking here. The new manual is now written in three languages and they are in English, Spanish and French.
How many inches are the cables?
The cables are 46 inches length of #2 AWG with industrial grade clamps. Both cables and the clamps are heavy duty. Getting the job done smoothly also depends on having good heavy duty cables and clamps for transferring energy to disabled cars.
How much does it weigh?
This Jump N Carry is very light weight. It weighs only 18 pounds. I can carry it anywhere I want it to be. I am telling you, I can't carry heavy stuff because I don't work out. I guess I am too lazy, but I am not fat okay? LoL… It might not be a problem for a male but I am a female and I would want it to be as light as possible. I don't like carrying heavy objects.
What are the ways to charge this jump starter?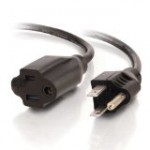 There are two ways to charge this battery. The first recommended way to charge this battery is charge it through the AC outlet from your home with an extension cord connecting it through with the built in charger. Note – an extension cord doesn't come included, so you will have to supply your own extension cord. If you don't have one that means you have to buy it separately.
The second way to charge this battery is by using the DC power outlet from your car when you can't have access to an AC outlet. A Volt Male-Male Extension Cord is included. It is the outlet where you plug the cigarette lighter. Please don't overcharge the battery or else it will damage your jump starter. It is very important that you monitor your jump starter frequently when you are using this method.
Will there be any indicator lights to tell you the status of the battery for charging time?
Yes, the battery gives accurate detailed state charge with three LED light status gauge indicators. This feature is great to have because it tells you the battery is ready to be used or it needs to be charged before you head out of your house and put it in the trunk.
Here is how this feature works. All you have to do is press and hold down the red test button and it will show you the color of the status gauge.
If it shows you a

Green

color it means the unit can now be used to jump start the vehicle.
If it shows you a Yellow color it means the unit needs to be recharged.
If it shows you a

Red

color it means the unit needs to be recharged immediately.
Where To Buy Clore JNC660 with FREE SHIPPING?
Check the current online price for this Jump N Carry
The place where I know where to buy JNC660 is from Amazon. You can select between the models of either the JNC660 or JNC660C. The JNC660 is NOT energy compliant with the states of California and Oregon.
The JNC660C is energy compliant, so if you are living in California or Oregon then you should choose JNC660C. You can do so by clicking here. Oh yeah this jump starter is NOT for sale if you are living in Catalina Island.
Will you be able to return this item?
If you are buying it from Amazon then the answer is NO. They won't accept any returns for this item even if it is due to being defective. That is because they think this item is dangerous if this battery is fully charged. But you can always contact the manufacturer if you are so unlucky to get a lemon.
Clore JNC660 Review
Ratings and reviews for this Jump-N-Carry Model
According to my research online the average rating for the Clore Automotive JNC660 is extremely high with many happy customers. Honestly, I have never seen a product rating that high that keeps steady like this.
Some of them own more than one JNC660 model, one to keep at home and the other one to keep at work for clients to use.
Pros And Cons

Pros:
Many are saying it works as described, high quality, excellent jumpstarter, easy to use, worth the price, recommending to others.

Cons:
The biggest complaint about this product is you can't return it, regardless of the condition, like defective right out of the box, if you are buying it from amazon. But if that happens to you, you should contact the manufacturer right away and they will tell you what to do next. Don't just do nothing. You might or might not have to pay for the shipping cost to the manufacturer for the repairs, but I think it is most likely. There is a user who didn't have to pay when he or she shipped it back with a prepaid UPS label.
You have to provide your own extension cord to be able to recharge the battery.
Bottom line – I would still give this jumpstarter a chance even though I can't return it back to amazon. If I buy a different brand of jumpstarter, I still may not be able to return it back for this category of products if I need to. I know I need a jumpstarter, I have to start from somewhere.
How to jump start your car by using the Clore automotive JNC660?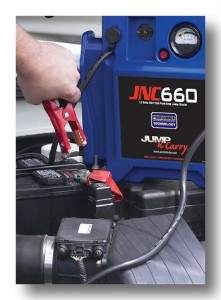 Some of you might be wondering how to jump start your car by using this Jump N Carry battery.
Here are the instructions that you should follow in order to jump your disabled vehicle.
If these steps don't work with your car that means your car is more likely to have other mechanical problems that are preventing the Jump N Carry from starting your vehicle.
Be sure to work in a place with a lot of air circulating.
Wear protective eye wear, especially when you are working with batteries. Click here for a cheap nice looking pair of protective eye wear.
Read all of the instruction manual that comes along with this Jump N Carry battery.
Turn the vehicle ignition off before starting cables connection.
Connect the red ( + ) clamp to the positive terminal on the battery (if your vehicle has a negative ground system) or on a different vehicle's starting point.
Connect the black ( – ) clamp to the vehicle ground which should be the vehicle's frame or other non-moving metal part.
Keep cables clear of all moving parts, such as fans or belts.
Keep a safe distance from the car battery while jump starting to avoid possible injury.
Turn on the ignition for 6 seconds or until the vehicle starts. If it doesn't start within 6 seconds, wait 3 minutes for the Jump-N-Carry to cool before making another attempt. Waiting for the 3 minutes is pretty important, be sure to do that.
Once the vehicle has started, disconnect the black ( – ) clamp from the vehicle frame, reinstall the grip guards, and return it to its holster.
Finally, disconnect the red ( + ) clamp, reinstall the grip guards, and return to its holster.
JNC660 Battery Replacement Information
Information to repair and replace the battery for this jumpstarter.
For those of you who have already owned the Clore JNC660 jump starter for a while and are looking for information to replace the battery without buying a new one.
The battery can be replaced according to the manual, but you would have to call technical service for inquiries at (913) 310-1050. The battery part you need is the JNC105 for this Jump N Carry model.
It is best to let the well qualified technician do the changing instead of doing it yourself. If you are looking to do repairs on this booster pack you would still have to call the above number. You can buy the JNC105 replacement battery by clicking here.
Helpful Tips Before Using This Jumpstarter.
Some of the tips I would like to share with you when working with this battery.
Before using the jump starter, you should read the manual thoroughly. Some people don't like following or reading the instructions.
Be sure to fully charge the battery for 24 hours for the first initial use or until the green LED lights.
Charge the unit after each use.
It is recommended to charge the unit every three months or 90 days when it is not in use. It is to prevent the batteries from deteriorating.
You should always wear protective eye wear.
Store it in a place where children can't reach it.