Where To Buy Hello Kitty Sewing Machines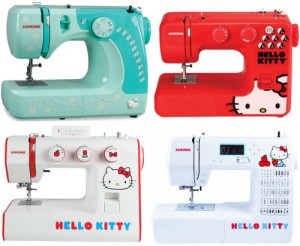 Does your little girl like Hello Kitty and are you asking where to buy a Hello Kitty sewing machine? I think that is a very good question.
It is a little hard to find a Hello Kitty sewing machine at a local store because Hello Kitty is not like any other normal sewing machine that you can see everywhere. I don't think I have seen one in my local store but I have seen that they are selling other Hello Kitty stuff. Don't worry, you can buy them easily online if you still need one.
I have found four different kinds of Hello Kitty machines online that you can buy. All four of these sewing machines are made by the same company and this company is dedicated to making very high class and durable sewing machines that you can count on.
Of course there is another sewing machine called Hello Kitty Deluxe Fashion Center, but I don't recommend you buying it if you want your kid to grow with their sewing skills, unless you want to buy it as a toy for them to play with. The price does cost more for the Janome sewing machines, but they will last you a very long time.
Best Place to Buy Hello Kitty Sewing Machines
You can buy these sewing machines from Amazon, Walmart and others online. They are all over the place online. I usually buy most of my stuff from amazon. I like the idea of free shipping when you have spent over a certain amount.
That amount is pretty low and you might not have to pay tax. I used to not have to pay tax too but they changed it because they have a warehouse where I am living. That doesn't stop me from buying from them as long as they are having a good deal. Not to mention, they have an excellent customer service and returns are very easy.
Click Here To Do A Price Check For A Hello Kitty Beginner's Sewing Machine
How To Choose A Sewing Machine?
There are a few questions you need to ask yourself before deciding on a sewing machine. Once you can answer the following questions then you can be able to choose the right sewing machine for yourself or your little girl.
1. How much are you welling to spend on a sewing machine?
I have seen price ranges for a decent sewing machine around $80 to $1000 and up. The machines that are designed for newbies are likely to cost less with less features. As for expert machines, they usually cost more with more features.
Hello Kitty machines are around $199 to $499 and these numbers are the MSRP (Manufacturer's Suggested Retail Price). Most of the time those sewing machines are on sale, so you can buy them for much less. All you have to do is do a price check on them.
2. What kind of features would you like for that sewing machine to have?
Some of the sewing machines have a lot of built in features, like automatic thread cutter, number of stitches selection, automatic needle threader, easy bobbin winding and others. The Hello Kitty machines not only can be used for beginners, professionals can also use them. For example the Janome 18750 sewing machine is loaded with built in features. If you'd like you can read its review by clicking the hyper link.
I recommend buying a very simple and easy to use sewing machine for your little girl, like the Hello Kitty ones. Sometimes it is not always good to have more features, especially for a beginner. They might be overwhelmed by all these features and it might discourage them to learn to sew.
It is also a good idea to get some learning how to sew books for her. It will help her to reenforce her learning ability with sewing when you are trying to teach her. Before you know it, she can be able to do all kinds of sewing. Little kids seem to learn very fast.
3. Do you have a brand preference?
Some people like to buy from a certain brand that they trust. As for me I really don't have a brand preferences as long as it is made with high quality and I got a good deal for that sewing machine. And of course I'm most likely to go with the features I want the most. I don't mind spending a little more if I can't find that item at common prices.
There are a lot of companies that make very good sewing machines, such as Singer, Brother, Janome and others. If you need a sewing machine, I would suggest to go with those top three brands I listed. But Janome is the only good brand that makes very good Hello Kitty machines according to my research. They do live up to their reputation.