Janome 18750 Sewing Machine Review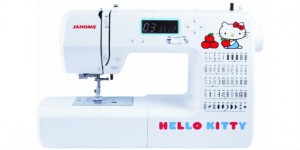 The Janome 18750 sewing machine is my type of machine and I love the way Hello Kitty looks on it. She is reminding me that I should eat one apple a day for less visits to the doctor's office. Seriously, she is just too cute to resist.
I don't really mind if others think of me as maybe childish when it comes to something that I like and I am not embarrassed to show it off even when I am an adult. Instead others might give you smiley faces when they see you are using this machine.
This sewing machine is designed for both beginners and experts. It is fairly easy to use. Honestly, I am no expert when it comes to sewing but I want a sewing machine to be able to grow along with my sewing skills. At least I can be able to do more things and bigger projects with this sewing machine.

Janome 18750 Sewing Machine Features
This one has way more built in features compared to the other Hello Kitty sewing machines. Yes, it does cost more than the others as well, if you were asking.
The machine has a manual tension control and with 50 built in stitches. So it will have plenty of stitch designs to select from.

It comes with three step one buttonholes.

It is a free arm, so it will be easy for you to have access to difficult sewing parts.

Did I mention it is a computerized sewing machine? Computerized just basically means this machine has installed a microprocessor to be able to do program functions. Some of the functions might already be pre programmed to the machine.

The machine has a backlit LCD display. It will make it easy for choosing selections like stitches.

Built in thread cutter, so you wouldn't have to use your scissors to cut your thread all the time.

It has a LED lamp which makes it very convenient to sew in a dark place or if you have poor eyesight.

You can control how fast the machine goes when it comes to sewing with its speed control slider. The machine has an imprint tiny picture of a turtle and rabbit. As you know a rabbit means go faster and a turtle goes slower. It is excellent for your little girl to recognize that. The maximum speed you can go with this machine is 820 stitches per minute and comparing with the other Hello Kitty sewing machines this one has the higher speed.

It comes with a soft case for you to use to cover from dust when it is not in use.

You can set the machine to memorize the needle to be down or up whenever you stop in the middle of sewing. For example, if you stop with the needle down in the middle of sewing and you need to readjust your hands or other things then the fabric won't slip. This is a very cool and useful feature.

You can also set the width and length for the stitches. You can set the maximum width to be 7mm and the length is 5mm for this machine.

It has 7 piece feed dog. That means it will have more accuracy and control while you are sewing. It's said the more the feed dog it has the better.

The machine has a built in stop and start button. This will eliminate the need for a foot pedal.

And of course there is a reverse button. When this button has been pressed, it will make the machine to sew in reverse.

Changing the feet can't be any simpler. All it requires is to slide on the presser feet.

This sewing machine is a little heavier than the others. It is 16 pounds. It is about 3 to 4 pounds more comparing to the others.

The dimensions for this machine are 15″ high x 11 " wide x 19″ deep.
Accessories
These are the accessories that come with the Janome 18750 Hello Kitty sewing machine. As you can see from below the included accessories are way more than the other Hello Kitty machine.
A set of needles, about three. You might need to get extra needles.

Four bobbins – Can only be used with Janome brand.

Three extra slide on presser feet – Zipper foot E, Automatic button hole foot R, Satin stitch foot F

Spool pin felt

Seam ripper

Small spool holder

Large spool holder

Ling brush

Extra spool pin

Spool Stand

Screwdriver key
Janome 18750 Review
The overall rating for this sewing machine is pretty high. As you can see from below it received a little above a 4. Don't know if you think this machine is expensive or not because everyone thinks differently. It is really depending on your budget. For example there is a user who is saying it is well worth the price and considering it is cheap when it comes to its features or functionality.
Average Consumer Rating: 4.2
Pros And Cons

Pros:
The machine runs quietly when it is being used, so it wouldn't bother others who need to do some studying. It is also great to have a bright light running on this machine. Not to mention there is no need for the foot pedal because of the stop and start available function.

Cons:
Doesn't like the plastic bobbins. Yeah, some other companies make their bobbins to be metal, but Janome makes them in plastic. Most of Janome sewing machines are using this kind of bobbin.

Another thing I like to mention is Janome doesn't make available parts for this machine anymore and it might be hard to find repairs if for whatever reason the machine breaks down.

Warranty
This sewing machine is backed by a five year limited manufacturer warranty. Sorry, I can't find the manual for this Janome sewing machine. I have searched on the Janome site and it looks like the download link is down. Hopefully, they will update it soon and then I will put the download link on here.