Clore JNC300XL Jump N Carry Jump Starter Review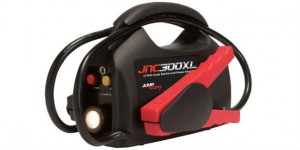 The Clore JNC300XL is really a jump n carry size of a jump starter. It weighs only 9 pounds. It's so light almost anyone can carry it.
Ladies, if you need a power source for emergency and don't like carrying heavy objects then this is the one you should go for. The price is affordable enough that it won't break your wallet. Please do check your car's CCA (Cold Ranking Amps) first before buying a power source.
It is to ensure the battery pack has enough power to start up your car's dead battery and of course you should give it a test before taking it on road trips, just to be on the safe side.

What are the featured benefits and details of this Jump Starter?
I thought you guys might want to know what are the benefits and details of owning this battery pack. You might understand it more when I turn it into a question and answer on my findings.
Who is this jumpstarter for?
This jump starter is made for almost any passenger vehicle. It it possible to start a 4 and 6 cylinder vehicle. It might even be possible for a larger vehicle.
What special features are built in when comparing with other power sources?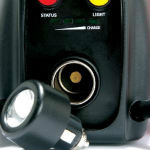 This jump starter has a built in light to make it easy to see when you need to jump start the car at night time. That means there is no need for extra someone to hold a flash light for you while working on the car.
Turn on the LED flashlight by just pressing the yellow button, and pushing that button again will turn it off. Very simple to use.
How much peak and amp power does it have?
It has 900 peak amps and 225 cranking amps. If you need higher cranking amps for your vehicle, I recommend the models of JNC660 or JNC950 battery pack.
How long are the cables?
The cables that come along with this power source are 27 inches long with a number 4 gauge jumper cables. It is about 2.25 feet long.
How much does it weigh?
Like I said before, it weighs only 9 pounds with a dimension of 12.1 x 7.3 x 7.5 inches. It really doesn't take that much space to be put in the car. I have to tell you, there are other jump starters that weigh much more lighter than 9 pounds and you can just put them in your pocket.
It is kind of in the size range of an ipod, but the down side is it costs way more than this power source. The lowest weight for a jump starter I found weighs only 13.8 ounces. If weight is very important, then you can check some out by clicking here.
Does it tell you when to recharge it?
If you are worried about knowing when it's time to recharge this jumper, then don't be. It comes equipped with a status indicator light to tell you the status of the battery. But you do have to press and hold down the red status button to find out.
If you see three lights that means it is good. If you see two lights it means medium. If you see 1 light, it is low and if you see the light is flashing that means it is time to recharge the unit. I also like to mention there is a light always on when it is plugged in. This light just means the unit is working. If you see four lights that means the unit is fully charged.
What are the ways to recharge this jumper?
There are two methods to recharge this jumper. The first way is to recharge it by plugging it in the the wall by using the included wall charger.
The second method is using the 12 Volt DC power outlet which is hidden behind on the LED flashlight. If you are using the 12 Volt DC outlet that means you would have to remove the LED flashlight and be careful not to misplace or damage it.
To turn on or off the 12 Volt DC outlet you would have to depress the yellow button.
How long does it take to charge it?
The charging time varies. For first time charge, you should charge it 12 hours and you need to charge it after each use and charge it every three months when it is not in use. I guess this is considered a maintenance. If you register this unit online with Clore, they will send you a reminding email when to recharge it.
Here are the recommended times to recharge this jumper.
When it is used for jump starting, you should recharge the unit for 3 hours. When the unit is in a very high discharge condition then you can recharge it for 12 hours to 24 hours.
It does not recommend you to recharge it more that 24 hours when it is under normal usage. You can ONLY recharge the unit for 36 to 48 hours after extreme power usage. So that is only in rare cases.
No, the unit doesn't have this feature. If it is fully charged you would have to unplug the wall charger from the outlet, because you don't want it to be over charged.
Replacement Charger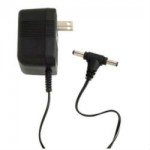 I know some of you are inquiring where to buy a replacement wall charger for this jumper, so I thought I should show you where to buy one, if you need it.
The model number for this replacement wall charger is JNC212. According to the sale page, this wall charger works with the model of 300XL and also the CS1000. Click the picture on the right for the replacement wall charger.
What is the difference between the JNC300XL and JNC300XLC?
It is really not much of a difference. They both made the battery pretty much the same other than the Energy Compliance, which means they made the wall charger differently to be more energy efficient. Basically those states want to save more energy.
So if you are living in either California or Oregon then you should go with the JNC300XLC. If you pick the other one, they won't ship it to you. They can tell when you enter your address and zip code. Click here for the Energy Compliant unit. Oh yeah the price for the Energy Compliant one might be a little higher than the one that is not. Think of it like this, you will be saving more money in the long run due to using less energy.
Can you do a battery replacement?
Yes, you can. It requires a model number of JNC065. You can check out this replacement battery by clicking here.
Will you be able to return this jump starter?
I am afraid no, you can't return this jumper. It is considered a dangerous item when shipping it back to amazon. I think most retailers won't accept returns for battery packs when buying it online. Well, I could be wrong. I am not sure if you can return from buying it locally. If you need repair for this jumper, you have to contact the manufacturer.
Where To Buy Clore JNC300XL?
Okay, you may be asking where to buy Clore JNC300XL. The places where I know the JNC300XL for sale are at amazon, walmart and sears. I tried searching through Target, but they don't have it and I find amazon is selling it at the lowest price as of February 17, 2015. Prices are subject to change, so hopefully when you are checking it, the price will be in your favor. If you are buying it from amazon, it is qualified for FREE shipping cost.
JNC300XL vs JNC660
Here are the following differences between the Clore JNC300XL and JNC660 that I think you might like to know. It is a little tough to choose between these two. If you like you can check out the comparison chart by clicking here. Sometimes it is better to find the difference by just reading a chart.
Price – In term of price the 660 model costs about $80.00 more when both starters are on sale when I last checked. If you are comparing with the listed price then it's about $200.00 in differences. If you are on a tight budget then you should go with the 300 model.
Cranking Power – The 660 has twice the cranking power of 425 while the 300 model has 225. With the higher cranking power you can use it to jump start more vehicles. Please do check the required Cold Ranking Amps from your vehicle to make this choice. You might not have a choice to go with other features if your car requires a higher cranking power.
Weight – The JNC660 also weighs double the amount of the 300XL. You should ask yourself do I want to lift up 18 pounds or just 9 pounds? If you prefer the 9 pounds then I recommend to go with the 300XL. To be honest I would go with the 9 pounds, if my car's CCA allows me. I most certainly don't like lifting heavy things.
Cable – Would you like to have a longer or shorter cable? The 660 has a #2 AWG Cable Gauge of 46 inch long cable while the 300xl has a #4 AWG Cable Gauge of 27 inch long cable. The lower the number of the cable gauge is better. That means it can be used for more heavy duty and is more durable.
Oh yeah, there is no flash working light for the 660 model.
Clore JNC300XL Review
This jump starter also received a very high mark in rating by the consumers. It is only a tiny little less than the JNC660. A lot of consumers are very happy with this jumper, but that being said not a single product is perfect without any complaints. There are a few complaints about this jumper.
Pros And Cons

Pros:
A lot of users are saying it works great. It is small, light, easy to store and yet powerful enough to jump start a SUV. It saved a lot of consumers from being stranded.

Cons:
The complaint by the customers for this power source is that it doesn't last that long. It is good for about 2 to 3 years while using it for a few times and others complain it doesn't hold a charge for their vehicle.
Note, if you have a completely dead battery in your vehicle, this power source might not work and if you are storing this jumpstarter in a place below 50 degrees it might not work. And also your vehicle might require more cranking power.

Warranty & Manual
This jump starter has a one year limited warranty. Like I said you can't return it back to the online retailer if it is defective. If you need repair you need to contact Clore Automotive with these two following numbers 800.328.2921 or 913.310.1050. The manual will also give you that information. Click here for the user manual.
Tips
1. Read the user manual thoroughly.
2. Please wear protective eye shields or goggles.
3. For best performance, when using as a jump starter, please do not store it in a place below 50 degrees.
4. Do not ever attempt to jump start a frozen battery.
4. Work in a very well ventilated place.