Actron CP9580A Enhanced Auto scanner Plus Review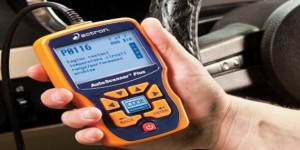 It might be a good idea to read a few Actron CP9580A reviews first before making that purchase. After all, this reader is not cheap but not too expensive either.
As you see from below the listed price for this reader is over $300.00. Don't worry, most of the time this gadget is on sale and you can get it cheaper than that unless you are buying it from the official site.
If I ever need an auto reader this one will be my number one choice. It is because I like the way it looks and the features that come with it. It doesn't take up a lot of room and it is a handheld device. I do wish it comes with a carrying case, but that might not be a big deal since it doesn't have that many separate pieces to get the scanner to work.
You can read below to see what I found out about this tool and to see if it is also what you are looking for.
As you know it is a good idea to have a car reader to keep in your car to check for problems. It might save you a lot of money from going to the auto shop. The auto shops also use diagnostic tools to find out what the problem is before making any decisions such as where the problem is located and what kind of repairs are needed.

Benefits of owning this reader
It's compatible with all 1996 and newer cars and also light trucks of OBD II (On-board diagnostics version II) & CAN (Controller Area Network) for generic requests from either domestic, Asian or European models.
It reads and erases codes for you.
You can read the code definitions on screen.
It also turns off CEL ( Check Engine Light).
It will display the emissions status, freeze frame data, and live engine data.
Data can be in graphs, if you decided to see it that way.
This tool is able to record and play back the data whenever you decide to.

The trouble codes can be kept in memory.
The tool can be updated with an internet connection.
It can read and erase ABS (Anti-lock Brake System) DTCs (Diagnostic Trouble Codes) for the following brands of vehicles such as GM, Ford and Chrysler for the years of 1996 to 2010 cars. Nissan, Honda, Hyundai and Toyota is good with 1996 to 2009 cars.
This tool gives you the choice to set the Long PID names to On or Off. It is your choice to make while viewing Freeze Data or Live Data to be able to scroll across the full PID name on the bottom of the screen.
When comparing with other Actron models, only the CP9580A has the following features. I think these are the best features to have, especially if you are a newbie to fixing your car.
You might like to check out this OBD-II and Electronic Engine Management Systems Repair Manual. The rating for this book is very good. A lot of users are saying this book is very helpful to them. Click here for this Haynes Repair Manual.
CodeConnect

:
Most current retailer scan tools will leave the troubleshooting to you once it's done reading. But with this AutoScanner Plus tool not only can it help you to diagnosis the trouble codes, it will also try troubleshooting the problems for you with its CodeConnect.
CodeConnect is a database full of over 4.3 million Diagnostic Trouble Codes that are verified fixes that causes the check engine light to light up. All the fixes were verified by the experts who are ASE (Automotive Service Excellence) certified technicians.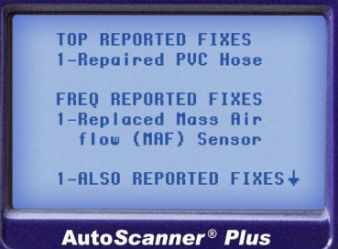 With this valuable information then you can either fix your car by yourself or bring it to your local auto shop to fix it.
Some drivers like to repair it by themselves to save more money and besides you will know what to expect and not get ripped off from your local auto repair shop.
Not to mention you will save a lot of time by finding the solution to your vehicle's problem. I count this as a short cut to finding the solution. Definitely it is a great feature to have.
When the CodeConnect has possible fixes to the problem, the tool will show up an icon on the screen to let you know and then you can check it out by pressing that icon. The CodeConnect is only available in English even if you set your language to Spanish or French.
The CodeConnect has three levels of reported fixes.
Top Reported Fix – This is most likely to have the possible solution to your vehicle's problem.

Frequently Reported Fix – Likely other solutions in addition to the top reported.

Also Reported Fix – This would less likely, but it's worth taking a look.
AutoID

: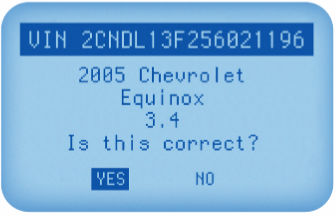 The feature is pretty handy. It automatically gets the VIN from your vehicle and it will also decode to the Model, Year , and Make. To see an example of the AutoID screen view, please refer to the picture on the right side.
VIN stands for Vehicle Identification Number. This is the serial number that is assigned by the manufacturer. You can find this number stamped in a number of places in your car.
The most important one is the one on top of the dashboard on the driver's side and you can see it from outside of the car. You can find a number of information over there, like where it was built, options, body and engine codes and a build number.
Component Locator

: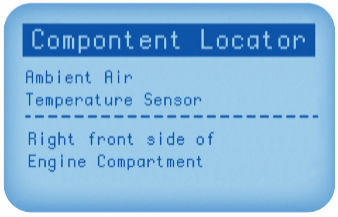 It gives you the specific location of the part found on your selected vehicle. The feature is in conjuction to the CodeConnect.
The CodeConnect will show you the part that needs to be repaired with the problem related to the DTC (Diagnostic Trouble Code) and the Component Locator will give you the location of the part.
Does this tool work with my vehicle?
I have seen a lot of people who are asking this question. This tool works with all 1996 and newer cars and light trucks OBD II & CAN (Domestic, Asian, European). If you really want to make sure if it works with your car, then you can check it with this Coverage Quick Chart and over here with the ABS (Anti-lock Brake System) Coverage Quick Chart.
You can also check it with the full coverage chart by clicking here. It might take a little more time to download because the full chart has more pages. All three files are in pdf format, so you need adobe reader to view it.
Is it possible to see real time data while car is driving?
Yes, you can be able to see real time live data with this little gadget even when you are driving your vehicle. Please do be extra careful when viewing the data while you are driving your car. It might be safer to have more than one person in the car with you, like having someone else to drive the car for you and then you can look at the real time data yourself. Just a little precaution advice.
Will this tool work while your vehicle won't start?
Yes, it will work if your car battery is fine and the DLC ( Data Link Connector) is connected to the car. This little gadget does not require your car to be running to get data.
What is the size of the LCD display screen?
You might be wondering how big is the viewing area of the LCD screen to read for instructions, messages, and diagnostic information. Well, the LCD display screen size is 128 x 64 pixels and it is a back lit liquid crystal display. The contrast of the screen can be adjusted with the up and down arrow.
What kind of ways can you power up this reader?
There are three ways to power up this reader. One is the internal battery from the tool. Second is the power from your vehicle and third is the USB by connecting to the computer. The second and third ways will automatically turn the tool on when it is connected.
This scan tool will automatically turn off on its own if it has inactivity for a period of time and if it is powered by the internal battery. That period of time is selectable. The default setting is 2 minutes. Of course you can also turn it off and on by pressing the Off/On button. To turn on the tool you would have to press and hold the Off/On button for at least 1 second.
The internal battery does require you to replace four AAA alkaline batteries when its voltage is low and it will show a low battery icon on the screen. It doesn't recommend you to use rechargeable batteries and it doesn't last that long. It recommends you to remove the batteries when you are not using this tool for an extend period of time to prevent battery leakage and damaging the compartment.
The diagnostic functions will be disabled when the scan tool is powered by the internal batteries and it has to be attached to the vehicle for the diagnostic functions to work.
How many languages on this reader?
There are three different languages you can select from this scanner. You can select from English, Spanish and French. It is very handy if you are buying this tool for someone as a gift and who doesn't know English. For example my parents don't know English, so I have to buy the gadgets in the languages they know how to read.
Just to let you know, the menus and code definitions can be from the above stated languages, but the CodeConnect Top Reported Fixes data is only in English.
Is this scanner able to do updates?
Yes, it can if it has a newer version from the manufacturer's server. You do have to download and install a software called Scanning Suite 4.0 to be able to do that. The software is only compatible with Windows XP 32 bit, Vista, and 7 for both 32 and 64 bit and the software size is about 17.5 megabytes. This doesn't take that long to download it.
Software doesn't work with Mac users and it might not work with Windows 8 unless the manufacturer updates their software. You do need a USB cable to be able to connect to the computer with the scanner port. Sale's page doesn't say if the USB is included or not, but according to the users, they said it is included.
Click here to download the software and read instructions how to do it. When doing updates for the tool, it is recommended for you to disable Antivirus and firewall software for a period of time to do updates properly.
Does it require you to use the Software for the unit?
No, the tool does not require the software to be able to operate its functions. It is completely optional. But if you want the benefits from the software, then you have to install it.
What are the benefits of installing the Scanning Suite 4.0?
There are quite a few cool things you can do with this software.
First you can update to a newer version of the tool with the

latest and most up to date information.
Second, you can be able to print out valuable data like diagnostic information stored in the tool to take it to the shop or other things.
Third, you can be able to see what current version your scanner has. You don't want to have a very outdated version that causes you to miss out a lot of information.
A link to the user manual for this scanner. This might be nice, if for some reason you lost your user manual.
A link to check out the DTC (Diagnostic Trouble Code) from Actron.com
How long is the cable?
The picture showing the cable might make it look like it is a little short, but it is actually about 5 to 6 feet long. That means no need to buy an extra extension cable. That means more money in your pocket.
How much does the unit weigh?
The unit weighs about 1.25 pounds with dimensions of 10.45"H x 7"W x 1.75"D.
What is in the box?
The scanner and the user manual.
Does it include a carrying case?
The answer to that is no. It doesn't include any of the soft or hard carrying cases. It would be handy if it did.
Where to buy Actron CP9580A?
Actron CP9580A for sale
I have noticed some people have been asking where to buy Acron CP9580A. So I thought I should address it over here. The places where you can buy it is from are Amazon, Walmart and the official website of Actron. But if you want to save more money, I recommend buying it from Amazon because I have seem it on sale most of the time and a lot cheaper when comparing with other retail stores.
What I mean is buy it directly from Amazon and not from third party sellers. Sometimes other third party sellers are selling it much more higher in price. As of today April 1, 2015, you can save 41% from the listed price and not to mention it is qualified for free shipping. Click the below picture to check out its current lowest price.
Actron CP9580A Review
This scan tool has a very high average rating. Many users love this tool and are recommending others to get it.
Pros And Cons

Pros:
Many users appreciate the fact that this tool helps them save a lot of money by not having to go to the repair shop. A lot are saying this reader does what it claims, is easy to use, and it has a great price.

Cons:
A few users are complaining about the software giving them troubles, like having trouble updating the software and it's not compatible with Window 8 and Mac users.
If you are a Mac user, I guess you would have to borrow a family or friend's Windows to update the software every once in a while. The majority of us are still Windows users.
Honestly, there is no software that is perfect without problems. This software might work well for you but not for others. Things are always like that. This also applies to this tool. The only thing we can do is give it a try.
If it doesn't work for you then return it in the allowable time frame. I still think this reader is worth a shot. If I don't give a try, I will never find out if I like it or not. Unless this tool is not compatible with my car then that is another story. You can click here to read more Actron CP9580A reviews.
Actron CP9580A VS CP9580, CP9580AL
What are the differences between those three readers?
Well, the Actron CP9580A car code reader is the newest model from the CP9580. It's just that the CP9580A has more features than the old one and I don't think the manufacturer is making the oldest model anymore. I could be wrong on that but I did do a search on the official website of Actron and that old model is not showing up. I also found out they are discontinuing their updates for that model.
I did find a model number of CP9580AL. I didn't find anything different from the A to the AL in term of features, but I did find the list price and the product dimensions are different. The AL does include a hard carry case for easy portability The product dimension for the A is 10.50in x 7.00in x 1.80in and the AL is 8.60in x 10.10in x 4.30in.
As of today April 1, 2015, the listed price from Actron for the AL is $346.95 and A is $328.95. It is about $18 difference. The difference in price might be related to the hard carrying case.
Which one is the best decision to buy of those three models?
If you still can't decide from the above three models, may I suggest the Actron CP9580A? Here are some reasons you might want to consider.
First, the manufacturer is still updating the scanner version and the scanning suite, and that means they are still making more of this model unit.
Second, the price might be cheaper if you are buying it directly from Amazon. Like I said before, I see this unit on sale most of the time.
Third, it has added new features to the current model. Who's with me for more features?
Fourth, if you want to go with the AL model because you really want to have a hard carrying case then you would have to buy it from Actron.com and you would have to pay for the listed price of $346.95 and I don't know if you still have to pay for the shipping cost. While writing this post, I can't find the place where they sell the AL model other than the official site.
If you still would like to have the older model of CP9580, then you can find it by clicking here.
Manual & Warranty
It has a 1 year limited warranty of free defects in materials and workmanship from the date it has been delivered. That doesn't include altering, abusing and not using it as intended use of this scanner. You may find the user manual by clicking here. It is written in English with about 126 pages and in a pdf format.