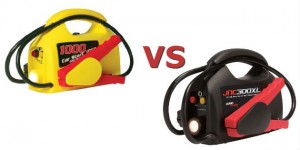 Some of you might be interested in finding out what are the differences between the model number of CS1000 and JNC300XL before making a decision to buy.
I totally relate to that. I would do the same thing if I can't make a decision over two different products. It just takes some time to find out the differences. If you don't like reading about the differences between them then you can click here to just read the summarized chart to save you some time. I also recommend you to watch both videos. You can actually see both power packs in action.
Here are the differences between those models with my findings.
Peak and Cranking Amps:
Both jump starter batteries have the same amount of peak and cranking amps of 900 and 225 and they both are 12 volt. Their cable length is the same with 27 inches long. The yellow battery pack uses a #6 cable gauge and the black one uses a #4 AWG which is thicker and stronger.
What Are Their Best Selling Points?
They both have a selling feature of a high intensity working light, which means you can use it to power up your engine day or night even in the middle of nowhere.
Price
In terms of price, I found the listed price for 300XL the black one to be higher than 1000 the yellow one. It is about $50.00 in difference and sometimes the selling prices are much lower for both of the power boosters. That makes it very affordable to own one of these power packs. Click here to check the current price for the 3ooxl pack and you may do the same thing with the 1000 over here.
Video
Weights
They both weigh about the same except the yellow one weighs 1 pound less, and oh yeah both power packs can't be returned.
Will you be able to replace these two power pack batteries when it fails?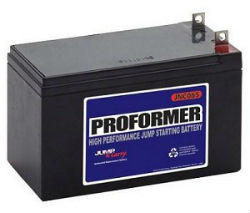 The answer is no and yes. You can't do a replacement battery for the 1000. It's not designed to allow you to do so. If it doesn't work, you would have to buy another jump starter for your car and you have to throw it away.
Only the Clore 300XL can be able to replace the battery, if it fails. If you think it might cost less to just replace the battery instead of buying a brand new one, you might be wrong unless you got a pretty good deal for the replacement battery.
At the time of writing this article, the price for the replacement battery costs very close to buying a brand new one and not to mention, you might have to pay extra for a professional to replace it for you.
Please do NOT attempt to replace it by yourself. You should get a professional to do it for you. The 300xl starter needs a model number of JNC065 replacement battery.
Warranty
The 1000 power pack only has a 6 months limited warranty and the 300xl has a 1 year limited warranty. It is only natural we prefer a longer warranty right? You can find the instruction manual for 1000 from here and 300XL from here.
Review by Users
The rating for the CS1000 is about average, but the JNC300XL has a very high rating by users. Which one would you rather go with? There are a lot complaints that the 1000 is not strong enough or enough power to start their car, motorcycle or even a lawnmower. They prefer either the 300xl or the JNC660.
Bottom line
If you ask me according to my findings, I think the JNC300XL is a better choice over the 1000 yellow color. First the higher ratings by the users speak for themselves. Second the 300XL is also much more popular. Third according to the customer service the internal battery is different and is a much better battery.
Clore CS1000 VS JNC300XL Chart
| | | |
| --- | --- | --- |
| | | |
| | | |
| How happy are the consumers who rated this product online? | | |
| The internal battery used to build this jump starter. | | |
| The number of customers who rated this jump starter. | | |
| | | |
| | | |
| Selling point of this product | High Intensity Work Light | Built-in High Intensity Flashlight |
| | | |
| Thicker and Stronger. More heavy duty. | | |
| | | |
| | Wall Charger and Included | Wall Charger and Included |
| | | |
| | | |
| This is the replacement battery for this jump starter. | | |
| | | |
| | | |