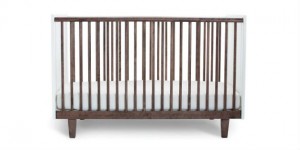 Is the Oeuf Rhea crib lucky enough to grow along with your sweet little baby? Read through this article to find out if the Oeuf Rhea baby crib meets your expectations for a baby bed.
This is the third baby crib design made by Oeuf and it used to be called Robin instead of Rhea. The only difference I see from the picture is the four feet holding the crib up.
I might have missed something but what matters is the current version is being sold and I don't think you can buy the Robin version anymore. I do see the Robin toddler converting kit is still being sold.
In terms of cost with the listing price, it is less expensive compared to the other two Oeuf cribs, like the Oeuf Sparrow crib and the Oeuf Classic crib. The listed price for the Elephant style is about the same. It is about $5.00 in difference.
This baby crib might be a better option if you are a little short on money and still want to get the same benefits of the other Oeuf cribs. Most of the features are the same other than the style of the design is different. Besides, this baby crib design is not too bad. It looks very sleek and very high class.

Dimensions and Features
The benefit of owning this crib
It is time to discuss what is so great about the Oeuf Rhea crib. This crib has a lot of great value to offer without having to compromise its quality.
If you don't want your baby to damage the crib when he is teething, I suggest you to get a crib rail teether to protect the crib. You can find some by clicking here. Your baby will chew on things when he is teething.
My son chewed on a lot of things when he was teething, like baby bottle nipples, pacifiers, books and his other toys. Even if you are not going to buy this crib, it is still a good idea to buy a rail teether to put on the crib. You have to have a baby crib for your baby right?
It is made with sustainable durable wood like the solid birch and Baltic birch plywood. It is said to be more sturdy and secure.

The crib is made in Latvia and not from China. Latvia is a small forested country which resides on the Baltic sea that has access to very high quality local wood and it is Eco friendly.

This baby crib can be converted into a stylish looking day bed for your toddler to be with the conversion kit that is sold separately. You can find the Rhea crib conversion kit by clicking here.
The crib supports three levels of mattress positions. You can find a Rhea crib mattress by clicking here.

You don't have to worry about the crib being toxic because the finish is made with non toxic and water based material and is also free of VOC.

The crib is designed to have a lower height for easy access to your baby, such as for feeding and changing diaper time.

Assembling the baby crib is easy.

The crib is designed with a small footprint to take up less space.

It is certified to meet all US, Australian, Canadian and European safety standards.

It weighs about 85.6 pounds. Ladies be sure to ask others for help on the lifting and future mom to be, please don't even try to lift any heavy things.


The product dimensions for the crib are 54″ W X 30.5″ L X 37″ H.

The model number for the White/Birch color is 1RH01 and the White/Walnut color model number is 1RH02.
Price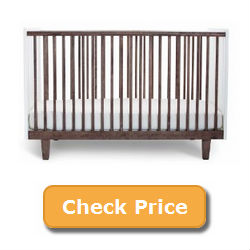 If you are planning to buy the Oeuf Rhea crib and want to save some money then you should click on the check price button or the picture on the right.
It is qualified for FREE shipping. Seriously, I don't like paying shipping and delivery costs. The extra money is being taken out my pocket.
And if you are buying it from the official site, they will charge you 7% of shipping. If you are living in New York, they will charge for tax too.
Rhea Crib Conversion Kit and Accessories
The Oeuf Rhea toddler conversion kit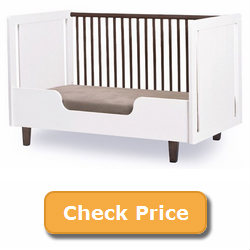 Is this one cool looking toddler day bed for your toddler to sleep on? Your baby won't be needing any help getting in and out of this bed. Both side panels are to prevent your baby from falling off the bed when he or she is sleeping.
After the crib has been converted into a toddler bed it can be used up to the age of six. Changing the toddler bed back to a crib is very simple. All you have to do is replace back the side panel.
Matching Changing Station or Table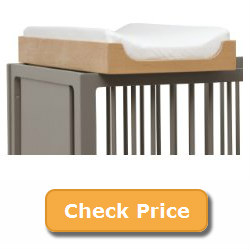 Are you thinking of buying a changing table for your little one to change his clothes or diapers? This changing station might be a good option, especially if your baby's room is not that big.
This changing station is designed to save space and it securely attaches on top of any of the Oeuf cribs. The recommended weight for the changing station is 50 pounds.
To check out the price for the changing station please click on the check price button or the pictures.
Oeuf Rhea Crib Review
I have to be honest. Sorry, I only found 1 user who had given a review online for this Rhea crib and it's a positive review. She did give it a full mark for the rating.

Pros:
She is saying, it is fairy easy to assemble, very sturdy and came in great condition. The baby crib looks beautiful.

Cons:
She didn't mention any cons, but I have one and would like to mention it. It is very hard to find this brand of cribs at your local store, although that being said you can fairly easily find it online.
I do know some people like to see the actual products first before making that purchase. I do the same thing for certain products. I did purchase a dining set without seeing the actual table and bought it online.
Warranty and Manual
According to the official site, this crib has a 5 year limited warranty. To take full benefit of the warranty, I recommend you to register the product. You can check out its manual first before making that purchase. You can click here to download it. It is in a pdf file, so you need adobe reader to open it. The manual is 10 pages, so it is not that long.
Comments
Don't be shy and say hi to us. Thanks!
Care to share your opinion about this style crib? What are your thoughts of Eco friendly products?