Hello Kitty Deluxe Fashion Center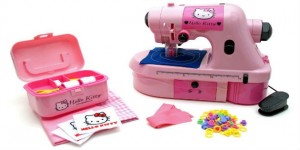 Are you looking for the Hello Kitty deluxe fashion center sewing machine review before making that purchase? Then you have made the right decision because I don't recommend you to buy this machine even though it looks cute.
It is in pink with a Hello Kitty head on top of the sewing machine. This machine is more like a toy then a real sewing machine and it doesn't work most of the time. If you really want a Hello Kitty sewing machine for your little girl to learn to sew, you should consider the machines that are made by Janome.
The company is dedicated to making very high quality sewing machines and I think it looks much more cuter than this one. Their sewing machines also help your baby to grow along with sewing skills. Did I mention their Hello Kitty sewing machines are designed for beginners? So it is very easy to use but you still do have to teach her how to use it. I recommend you to go for the Janome 15312. It is made available in blue and red.

Hello Kitty 2 in 1 Sewing Machine Features
This is a 2 in 1 fashion center machine. These are the stuff that come with the sewing machine.
One sewing box to store the accessories.

One A/C adapter for easy accessing power source.

Of course an instruction or project booklet.

Tape measurement, like if you need to measure the fabric.

30 rivets and 30 pop in decorating beads to be used for the applicator

The machine comes with a foot pedal.

It is recommended for the age of 8 to 12 years old by the manufacturer.

It also includes the materials to make the following projects – shoulder bag, hand bag and hanging wall pocket.
Hello Kitty Deluxe Fashion Center Reviews
The rating for this Hello Kitty sewing machine is not that good. As you can see the number from below, it is very low. With this kind of number, it is obviously showing that consumers are not happy with this product. If you still want to check it out, you can do so by clicking the Buy at Amazon button below.
Average Consumer Rating: 2.5
Pros And Cons

Pros:
It is a toy machine that you might think is much safer than a real sewing machine for your baby to learn to sew. It comes with the items for the projects to learn the basic skill.

Cons:
The performance or quality of this machine is not good. Most of the users find it doesn't work and if it works it doesn't last that long.