Janome 13512 Hello Kitty Sewing Machine Review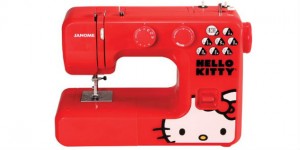 Here is another Janome Hello Kitty sewing machine with the model number 13512 and it is also made for beginners. You can select between this one or the Janome 11706 sewing machine.
What is your favorite color, or I should have asked what is your little girl's favorite color? Do you think your baby girl would like the red or the green one? The red Hello Kitty sewing machine does have a little more features than the green one, but the price might also have a little difference.
To be honest, I like all the Hello Kitty sewing machines made by Janome. I don't think I can just pick one design. They are just too cute to decide which one. Most likely, I would have to go with the features, if I am planning to buy one of these machines.

Janome 13512 Features
These are the features equipped with this sewing machine. Hope this is what you are looking for.
This is a mechanical sewing machine with 12 different unique stitches and with 15 stitch options to select from for your sewing projects.

You can make adjustments to the length and with width into zig zag for the stitches to your liking.

This machine can do maximum width stitches of 5mm and as for the length maximum stitches are 4mm.

It is a free arm sewing machine to make it easy to access hard sewing parts.

This machine has a 4 step buttonhole.

You can use the detachable extension table for an accessory storage.

The thread tension control is manual.

You can sew up to a maximum speed of 800 SPM. SPM stands for stitches per minute. A newbie doesn't really need a very fast sewing machine because they still need to get used it.

It is a snap on presser foot, so it makes it very easy to change its foot.


The presser foot lifter has three positions. You can select between, lowest, normal and highest position.

The machine has a built in carrying handle for carrying to places.

It can also do reverse stitches and the length range is 0 to 2.5 mm.

It has a push or pull bobbin winding system.

The machine has two vertical retractable spool pins.

The machine is lightweight, so it makes it very easy to travel to places. If you want to know it weighs about 13.2 pounds.

The measurement is W15.3″ x H 11.6″ x D 6″.
Accessories
These are the accessories included with the purchase. As a reminder you can't use other brands of bobbins. The only kind you can use is made by Janome. The bobbins are made with plastic and it is not like the traditional ones that are made from metal.
A set of needles

Three bobbins

Steam ripper or buttonhole opener

Sliding buttonhole foot

Zipper foot

Blind hem foot

Darning plate
Janome 13512 Review
The average rating for this model is pretty awesome. It is over a 4 plus. When this model is being compared it is pretty popular among the other Hello Kitty models.
Average Consumer Rating: 4+
Pros And Cons

Pros: It is easy to use and it looks very pretty. Great for kids to learn to sew and even a pro loves it.

Cons: The sewing machine does not come with an automatic thread cutter and built-in needle threader. It would make sewing much easier if these two features were added.

Manual
The sewing machine is covered by a 5 years limited manufacturer warranty. If you want to take a look at the manual you can do so by clicking here.